Buy Now, Pay Later with PayBright
Pay for it over 4 equal bi-weekly interest-free payments.

Pay for your order in equalbi-weekly payments

Your order will be shippednow, just like a normal order

No interest, no additionalfees if you pay on time

You can use PayBright fororders ranging from $300 - $5000

Canadian bank account or Visa/Mastercard credit or debit card

Age of majority (18 or 19 depending on your province)

Add items to your bag and checkout as normal


Select PayBright as your preferred method of payment


Enter your details with PayBright and Voila!


Your payment schedule will be emailed to you

Your first payment will be made at the time of purchase, with the remaining payments over the next 6 weeks.


If you return an item, your payment plan will be cancelled and you will be refunded any payments you have already made.


If you fail to make a payment, you will be charged a late payment fee of $10.

Example for a $200 transaction:

How to apply for PayBright?
How to apply for PayBright?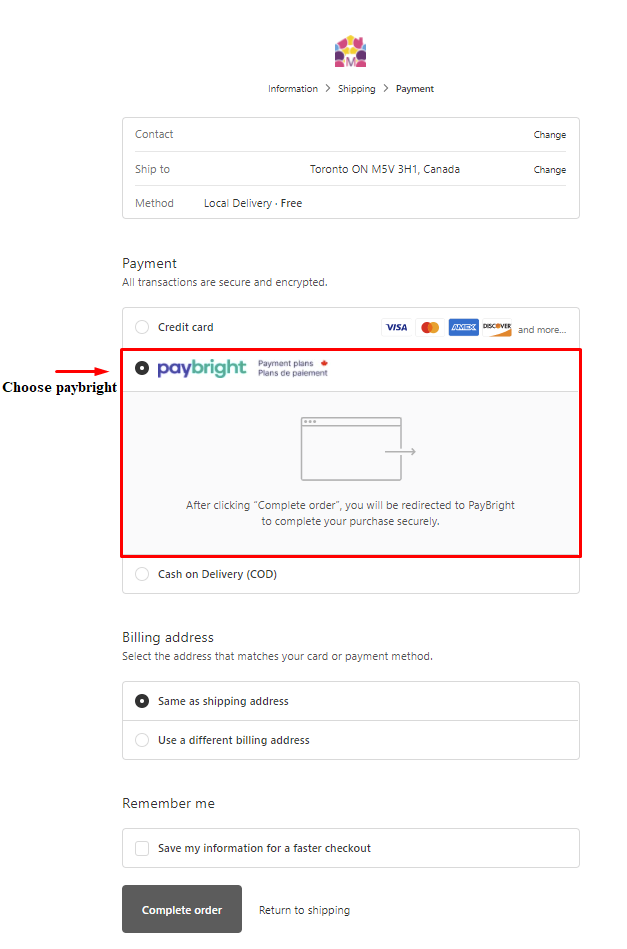 No interest, no fees, no credit check!

Please note: If your Pay in 4 purchase is made through a PayBright Virtual Card, a credit check will be conducted.
Will there be a credit check for a Pay in 4 transaction?
What methods of payment can I use for a Pay in 4 plan?
For Pay in 4 purchases, you must use a credit card (Visa or MasterCard). Prepaid credit cards are not accepted.
When is my first payment due for a Pay in 4 plan?
Your first payment (1/4 of the purchase total) will be authorized on the day of your purchase. The remaining 3 payments begin biweekly following your first payment. You will be shown a breakdown of the payment amounts at checkout once you complete your purchase.
When are my payments due?
For Equal Monthly Payment Plans, your first payment is typically due one month after you complete your transaction, and will continue to be debited automatically on the same day of each month for the rest of the term. To view your payment schedule for a monthly payment plan, log into your PayBright account and click View Payment Schedule.

For Pay in 4 Purchases, a temporary hold of your first payment will placed on your card as soon as you complete your purchase, but we won't debit you until your order is confirmed. The 3 remaining bi-weekly payments will be debited as scheduled. We will send you a confirmation of your payment schedule once your order has shipped.
Will I be charged any fees for missing a payment?
We don't charge any late fees, however, missing a payment will prevent you from being able to make future purchases using PayBright.

If you are going to be late on a payment, please let us know as soon as possible.
Is my personal information secure with PayBright?
Yes, protecting your personal information is very important to us. We encrypt sensitive data. We also maintain physical, electronic, and other safeguards to protect your information. We do not sell your information to anyone. You can read our detailed Privacy Statement here.

How can I check my account balance?
Returns and refunds are subject to the return and refund policy of the partner store. Please contact MoonVella directly to process a return or to request a refund. You can read more about our refund policy in our Terms & Conditions.


Full refunds
If you return your entire purchase or receive a full refund, your PayBright Payment Plan will be canceled, so you won't need to make any future payments. Refunds or cancellations issued by a retailer may take up to 28 days to reflect on your PayBright account. Once the refund is reflected on your PayBright account, any payments that you've previously made toward the Payment Plan will be refunded to you by PayBright the following business day on your original method of payment (including any applicable interest/processing fees). Depending on your payment processor, this may take an additional 5-10 business days to appear on your statement.


Partial refunds
If you return only part of your purchase, the refunded portion will be reflected on the remaining balance of your PayBright Payment Plan. It's important to note that your regular monthly or bi-weekly payments will remain the same but you might see a smaller final payment, a shorter term, or both.
In the event of any refund, we'll send you an email confirming the transaction and the amount you still owe, if any.
How do I cancel my order?
All order cancellations have to be done through the retailer. Please contact the partner store to request cancellation. If your order has already been canceled, we'll cancel your loan automatically within 21 business days.